Las Palmas de Gran Canaria is a perfect starting point for Island excursions – so do not miss the opportunity for an unforgettable island tour with a Motorbike rental or Scooter hire. Hundreds of kilometers of twisted and mainly well maintained asphalt roads let you drive through deserted canyons, along the steep west coast and over mountain passes up to 2000 meters high. The tarmac of many roads is in very well estate, but there are also some adventurous country lanes like the GC-604 which is on large sections very rocky with lots of pebble instead of asphalt and so demanding that you would need a real enduro or moto cross motorcycle.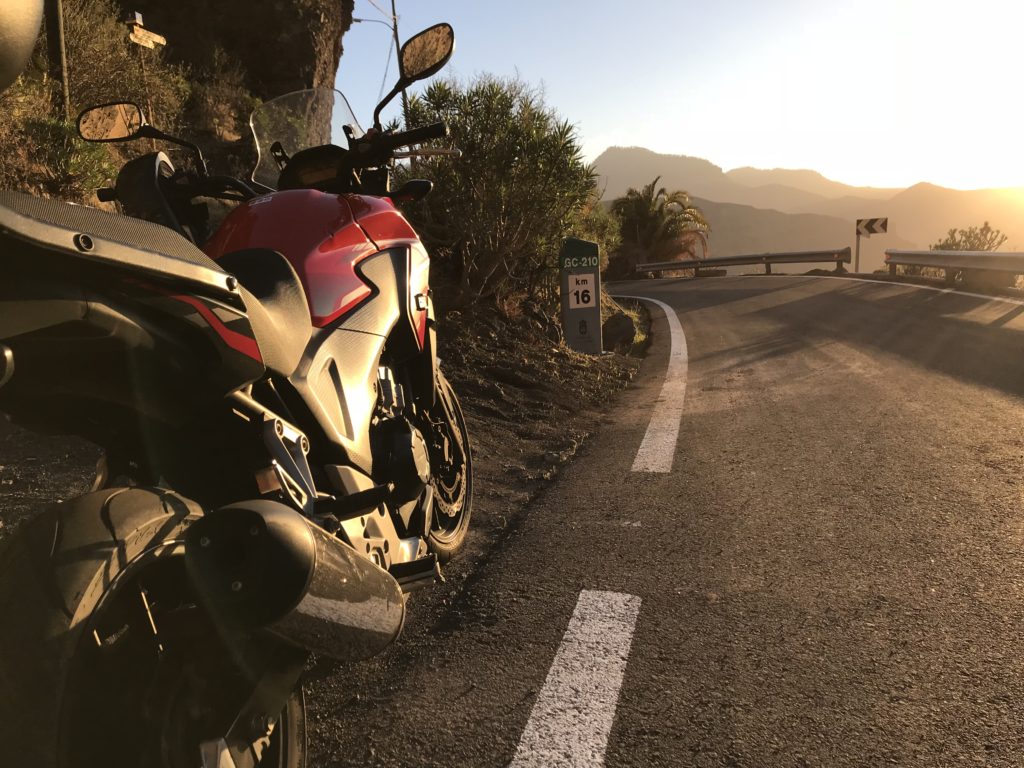 Wherever you want to ride – you always reach very fast the north-western or the southern part of the island riding on the motorways GC-1 or GC-2, restricted only by the speed limit of 120 km/h. From there you continue your round the island tour passing the center of the island via Tejeda or Artenara. Nearer, but also attractive tours can be a sightseeing ride through Las Palmas old town followed by a ride up to the Bandama Crater near Tafira, to the Botanical garden or to the historic Village of Teror.
Privileges for Motorbikes and Scooters in Las Palmas City
Even in Gran Canaria car traffic is cumulating day bay day so that the local government started with incentives to switch to motorcycles or scooters instead of using cars. The Motorbike & Scooter privileges are among others a dense cover or totally free motorbike parking places, stop zones in front of traffic lights and the right to use the bus and taxi lanes.
Drivers with "A2" or "A" license will enjoy our Honda CB 500 X motorbike rental or our Honda NC 750 motorcycle hire, having always sufficient torque and accelerating power on your hands. As Gran Canaria offers endless turns and curves in its mountains, torque at low revs is much more important than peak power. Thatswhy motorcycle rentals like the Honda CB500X or the NC750X are ideal companions for your island trips.
Drivers with car driver license "B" or Moto driver license "A1" will be very happy with the smaller Honda SH 125cc or the larger and a bit faster 125cc Honda PCX Scooters for rent. With 12 Nm@6,000rpm the PCX offers class leading acceleration so that even climbing up to the highest mountains or running with arround 100 km/h will work even with a passenger on the back.